Details

Written by Dan
The Canadian Rockies
Article and Photos by Anthony Brook
A Lazy Adventurer's Playground
I like to think of myself as productively lazy. I thoroughly enjoy the Mountains from Kananaskis to Jasper, and partake in all the sports and activities they offer—but if there is an easier way, I will find it.
I am willing to put forth the energy required to enjoy a hike, scare myself on a bike or get snow up my nose while skiing; however, exertion and sweating are not goals unto themselves.
I am a master of three-hour hikes and ski tours in the Canadian Rockies. I am sure my canoe is more qualified to take itself down the river than by having me interfere with paddling. Downhill mountain biking is better than the other, peddling, kind. With this in mind, I'd like to take you on a short tour of the lazy man's action adventure lifestyle.
The Bow River
Competition is obviously the bane of the lazy man. While the hordes flock to climb, hike, ski and bike in the mountains, I am content to let them do so. They forget a river flows through it. The Bow River originates in Bow Lake, north of Mosquito Creek. It travels south and east, through Lake Louise, Banff, Canmore to Calgary, and beyond. Not only does it provide excellent trout fishing in its lower reaches but the canoeing is excellent and varied. Best of all, despite all the transplanted Ontarians in the valley, nobody canoes.
The highest you can really put in is at the HI-Mosquito Creek Hostel. It's shallow, fast, and bumpy with lots of stick handling. I love it. My boat hates it. Halfway along the five-hour journey, you pass through Hector Lake, which is stunning, has a great little backcountry campground, and lots of fish. Continuing along, the rocks are replaced by sweepers, again quite sporty for even the experienced paddler. Seven kilometres or so above Lake Louise you'll need to know where to pull out above Willies Canyon. Willey is OK for some kayaks, but he doesn't like canoes so much.
After your car portage, you can put back in above or below Louise Rapids. Above, if you like to get wet; below, if your cooler is unsecured. From Lake Louise to Banff, with the exception of a few whiffles, it's a pretty floatsy trip. It is the best way to see the valley. It is hiking from your chair. It is advised to avoid Bow Falls as you pass through Banff, or you will die (with a huge audience). Below the falls, the river picks up a bit of speed and takes you to Canmore under the ramparts of Mount Rundle.
My favourite section of the River is from Canmore down to Exshaw. The river flows lazily and braids out across the valley. All animals love water and they especially love it here. I have often seen bears (both flavours), moose, elk, deer, beavers, ospreys, bald eagles, coyotes and foxes…but rarely humans. I have been seen by cougars. Last summer we came around a corner where a huge golden eagle was gorging himself on fish. He didn't stir until we were about ten metres from him. When he did, we saw the reason for the procrastination. Fatty Fatso could hardly get off the ground.
For those that don't drive around with a boat on the roof, this same trip can be done commercially with Canadian Rockies Rafting. They offer an excellent and unique evening trip. If animal viewing is your priority, this is the way to do it. If you want more adventure from your rubber bus, rafting trips are available at the Kananaskis River and Horseshoe Canyon. The Kan is a family trip, while the Horseshoe offers a short, sharp shock. Jasper also has a host of whitewater rafting opportunities on the Athabasca and Thompson rivers. Anything Banff/Canmore can do, Jasper can do slower. That's not always a bad thing.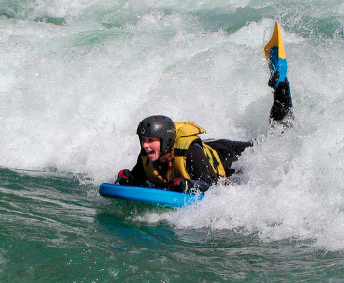 My favourite bit of liquid idiocy is river boarding.
Think boogie board, flippers and rapids. Four-foot waves seem much bigger when you are heading in, face first, kicking like hell. I am OK upping the effort level when fear is involved.
Hiking
You may think this is an awful lot about water, so what are the mountains for? Well, we use those too. This is a lazy man's hiking paradise. Park car, walk up hill, drop jaw. The best thing about the hiking is there is so much of it. You don't need to spend the day with a thousand of your friends on the trail. Easy, hard, vertical; in fact, despite the fearsome appearance of the mountains, it is surprising that there are very few that do not have a "no gear needed" hiking trail to the top. I have many favourites, some of which, I will tell you about.
Down in Kananaskis country, you don't have to be content hiking along and looking up at the peaks, you can get up high and look down at the valleys. Pocaterra Ridge is an excellent example of this. A classic September trail, it starts from Highwood Pass, in the Larch trees, which turn a beautiful shade of yellow in the autumn. After a walk through bucolic meadows and a steep trek through sheep country you gain the ridge. We had lunch one day with a full curl big horn sheep sitting 20 metres away. He was obviously puzzled as to why we had brought our own lunch, instead of enjoying the delicious grass that was provided. Once on the ridge, it is a rugged scrambling, but the views are worth the sometimes precarious footing. Then it's down downhill. Your day ends winding through the larches, and then the subalpine forest. Hike this from the south to the north and your shuttle car will be much lower than the one you came in—lazy man tip.
Sunshine Meadows, Lake Louise, Lake O'Hara and the Takakkaw Falls areas all offer enough varied and beautiful hikes to keep the most avid hikers and photographers busy for weeks. Any guide book or local information centre will send you in the right direction. I know I've already told you this story—but it's so appropriate here it bears repeating: a few years ago, I took an experienced travel writer for a walk up Sentinel Pass, near Moraine Lake and the Valley of the Ten Peaks. As I wrote then, I ventured that the Canadian Rockies offered some of the finest car-to-car, half-to-full day hikes in the world, and that this hike was the best bang for your buck of them all. She remained quiet, but I could hear her eyes roll back in her head. Three hours, three unbelievable, in your face, views later, we crested Sentinel Pass and gawked down into Paradise Valley. When I read her article later, it was absolutely apparent that she agreed—I retell this story often, as I think it's a cautionary tale, a great reminder for all us travellers.
If a stroll through flower covered high-alpine meadows is more your style, then Edith Cavell Meadows, in Jasper National Park, is for you. Let your car do the work grinding up the road to nearly the base of tree line. As you start out across the moraine, Angel Glacier towers thousands of feet above your head. Occasionally, a huge chunk of ice will calve off and crash into the lake below. Continue through the trees for a while and you'll bust out into the high meadow. In mid-summer it is a blanket of wild flowers, with views that would make Julie Andrews weep. If you didn't get enough on the first day, you can stay at HI-Edith Cavell, which is right at the trail head. At night you can sit by the fire and hear the glacier rumble and crash.
Mountain Biking
Jasper itself is a lovely little mountain town without the frenetic energy of its sister community of Banff. It started more as a railroad town than tourist destination, and now carries on both traditions with a laidback confidence. The locals still have the same passion for all the outdoor sports and recreations as their southern neighbours. I really like mountain biking here. There are fewer roots and rocks than other places, and the climbs aren't as long. It's lots of rolling, parkland wooded trails with the occasional adrenaline rush thrown in. Of course, there are more challenging trails available, but really—why? I'd like to give a long list of trail names, but I don't know them. I just follow my friends around and don't know where I am, until we arrive at the bar. I just know I had fun.
Canmore and Banff have a wide array of mountain biking trails as well. There are some long, grunty climbing ones—you know how I feel; and good cross-country as well. The Canmore Nordic Centre was the site of the 1988 Winter Olympics and is still an important training ground for our winter crosscountry skiing and biathletes. In summer, those same trails provide excellent mountain biking. Easy, hard or gross, there is something for everybody, and although you may think to the contrary, when you arrive, it is not mandatory to wear spandex. If you are just passing through any of these locations, you'll find all kinds of people willing to rent you a bike for not too much money.
Road Biking
The vegetarian cousin of mountain biking is, of course, road riding (spandex mandatory). The drive from Banff to Jasper is one of the most dramatic in North America. Why do it in four hours when you can do it in four days, on your bike. Take your time to soak in the hanging glaciers and 3,000-foot cliffs looming above you. Take a side hike to the torrents bashing their way through the limestone. Chill out by a turquoise lake. The slower you do this the better. Peyto Lake, Crowfoot Glacier, Bow Summit, the Columbia Icefields, Sunwapta Fall, Athabasca Falls and Horseshoe Lake are just a few of the stopping points that need further investigation.
To help with this truly unique experience, Hostelling International (HI) operates a string of wilderness hostels all along the route. Back in the day, a wise person at the Department of National Defence donated the buildings to HI and arranged for Parks Canada to allow them to be deposited along the road, perfectly spaced for an easy day's ride. Such government foresight would be very difficult to find today.
Starting north from Banff, you can stop at HI-Castle Mountain, HI-Mosquito Creek, HI-Rampart Creek, HI-Hilda Creek, HI-Beauty Creek and HI-Athabasca Falls. The total distance is about 260 kilometres. If you are doing a shuttle beforehand you can drop supplies (wine can be heavy) and ride only with what you need for the day, comfortable in the fact that dry clothes, a warm bed and your granola are waiting for you at the next stop.
Ice Climbing, Skiing and Mountaineering
The wilderness hostels also provide great base camps for those heading off on more adventurous pursuits. From HI-Rampart Creek, the world-famous ice climbing routes of the Weeping Wall and Polar Circus can be accessed from the road. Single day or multi-day ski tours and mountaineering can be had from all the properties. The Wapta Icefields are a short journey from HI-Mosquito Creek and the Columbia Icefields, which boast the highest mountains in the Rockies, can be reached from HIBeauty Creek. HI-Hilda Creek, my own personal cottage, has wicked short ski touring out the back door. You can go for a ski, then come back inside for a mid-morning snack.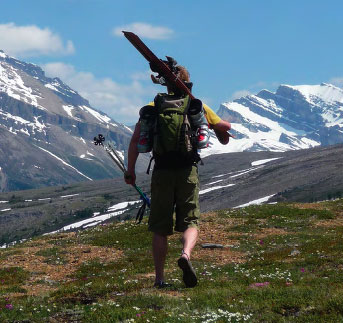 The old joke about the Rockies is it is nine months of winter and three months of lousy skiing.
Truth be told, I have skied at HI-Hilda Creek in July, and it wasn't half bad. That being said, if you're going to live here, you'd better like winter. Skiing is an essential part of that.
Cross-country skiing, the winter version of road riding, abounds. Parks Canada and Kananaskis Country maintain a huge network of groomed trails in their respective jurisdictions. The Canmore Nordic Centre maintains a maze of their own trails, with added bonus of snowmaking facilities. In addition, there are miles and miles of fire roads and hiking trails that can also be accessed. Fitness benefits far to the side, being out in the mountains, alone, in winter, is a very special experience that cannot be replicated at a commercial ski hill.
Of course, downhill skiing and boarding are the big guns of winter activities around here. Nakiska, Norquay, Sunshine, Lake Louise and Marmot Basins stretch across the spine of the Rockies, from Kananaskis to Jasper. The views from the tops of Sunshine Mountain and Lake Louise are unparallelled in North America. They all boast of a plethora of blue and green family friendly runs but really, who cares? It is all about speed. From big groomers to high-alpine bowls, you come to the Rockies to go fast. Delirium Dive and Whithorn 2 are as long and as steep fall-line skiing as you will find anywhere, so buckle up and pucker up; just don't fall.
This is a long but not complete laundry list of things to do in the Canadian Rockies for the adventurous and semiactive. I left out the high (high!) alpine adventures and many bolted playgrounds. I'm sure there are those who windsurf on Abraham Lake and kite surf on the Spray, but those can be the focus of somebody else's article.
The main point is—don't cut time short in the Rockies, there is too much to do. Only plan for half the day and the rest will take care of itself. Look to the corners and less travelled paths—but above all else remember the lazy man's credo, "Start slowly and taper off."
For more information on travelling in the Rockies, visit hihostels.ca/tripplanner, and take a look at the suggested travel routes called The Wolverine and The Big Horn.
---
---