Details

Written by Dan
Hostelling International Scotland
By Hostelling International / Heather Cleland
Experiencing Scotland
This is the first in Hostelling International's 2013 series of great travel stories from guest writers who have an interest in backpacker travel and hostelling—we hope you enjoy the series!
Heather Cleland is our first featured writer. She is well travelled and a seasoned hosteller—in fact, she used to edit these pages of Hosteling International's Backpacker Buzz in Outpost Magazine back when she worked for Hostelling International. Here, she writes movingly about her experience hostelling in Scotland with her parents, land of her ancestors.
When I was 25, I told my mom about my plans to travel around the world in an email.
I had already worked out where I wanted to go, and when, and for how long. I'd been to a travel agent to get an idea of how much my RTW (round-the-world) ticket would cost. I told her how I'd come up with the money. I explained to her that "it's become more than something I wanted to do; it's something I needed to do." I told her why I wanted to do it alone.
She responded as well as a mom could. She said she was nervous. Nervous I'd be unsafe or lonely. We had some conversations, and, as is the case every other time I've made up my mind, she came to terms with it. "I understand your thought process, you've made me happier about the lonely thing, but I am going to worry about the safety thing, and we will definitely make plans to meet up with you at some point." By the time I left nine months later, she admitted that in addition to still being nervous, now she was also a bit envious.
Six months, 21 countries and three continents later, I was waiting in the Edinburgh Airport to greet my mom and dad.
They didn't know I was already there. I told them I was going to arrive later that day, but I flew from Vienna to London the day before and caught an early morning flight out of London to surprise them. I didn't know what flight they'd be on, and as I hid behind a pole at the domestic arrivals (figuring they'd caught a connecting flight in London), they walked out of the airport from international arrivals on the other side and caught a cab downtown! I made my own way downtown and finally managed to surprise them in the apartment they'd rented.
Our two-week tour of Scotland began. I'd kept my parents up to date as I travelled, but I think it was a relief for them to see that I was still in one piece so far from home and on my own. I told them stories about my trip so far and went through the highlights from my thousands of photos, and then we got to planning our own trip.
They showed me their shiny new Hostelling International membership cards, as we'd booked ourselves into a couple of hostels, but they had no idea what to expect.
Their willingness to give hostelling a whirl was fun for me. Hostels had been my life for the six months preceding. I'd worked for Hostelling International for two years before I took off on my trip. But bringing your never-hostelled-before parents into that world is a bit like bringing home a First Grade art project you've spent weeks on. You want them to love it, but what if they hate it?
So off we went in a car they had rented, up through the Highlands to Inverness, then out to the Outer Hebrides, the Isle of Skye, and back via Stirling to Edinburgh. All along the way there were castles, lochs, beaches even, mountains, Scotch distilleries, small towns, even smaller towns, a lot of pub food, and a constant struggle to decipher the Scottish accent.
Our first hostel stay happened on the Bonnie Banks o' Loch Lomond in the Scottish Highlands. We pulled into the driveway of the Loch Lomond YHA in the pouring rain. We wound round bends and finally popped out of the drenched forest into a green clearing with a castle in the middle of it. Welcome to hostelling, ma and pa.
It was a nice introduction for them. And since they didn't want to dive in too deep to start, we got a private room. The building itself is the seller here, though. It's not actually a castle, it's just a country home that looks like one, complete with a grand fireplace, arched ceilings, a huge staircase, towers, stained-glass windows, a ballroom and a conservatory. It's 300 metres from Loch Lomond, which you can spot from the well-maintained grounds.
We wrapped up our Scotland visit with a stay at the HI hostel in Stirling, between Glasgow and Edinburgh.
The facade of an old church greets you, while more modern digs have been set up inside. Here we had a four-bed dorm room to ourselves. I was first in, and called back to my parents, "I hope you like bunk beds!"
"Ooooh! It's like having your own compartment on a train!" my mom squealed.
I don't know if my parents will embark on a round-the-world backpacking trip any time soon, but I do think they've come to understand a little more about what I do, and why I do it. And I could tell they were breathing a little easier when I left them in Edinburgh and flew to Paris and beyond, with two and a half months to go.
Top 5 Perks of Travelling with Your Parents as an Adult
1. You're not nearly the angsty teenager you once were, which makes travel more enjoyable for everyone.
2. They tend to foot the bill a lot of the time!
3. You get grown-up bonding time away from the distractions of daily life.
4. They get a glimpse into a world you love.
5. You get a glimpse into who they are, and perhaps why you are who you are.
Tracking Down the Family Tree
My dad's side of the family came from Scotland, so while we were in the country we decided to do a bit of digging. There's a small town near Glasgow called Cleland, with a population of about 2,800, so we parked ourselves in the Cleland Library and chatted with the librarian.
We learned that the first Cleland on record married William Wallace's cousin, and their son later joined William Wallace in battle, so pardon me if I insist I've got a bit of Braveheart in my blood. The Cleland Clan also apparently hid William Wallace on their property while the English were hot on his tail.
We also got official confirmation (and righteous vindication!) from the motherland that the correct pronunciation of our last name is indeed "Clee-land," and not "Clell-and," like most people want to pronounce it, including most Scots. The name is derived from the name Kneeland. I found a letter to the editor from a historian insisting this was so, even though many Scots and residents of Cleland now call it Clelland. "It mak's the bluid rin caul' tae hear it ca'd ither than it should be," she wrote.
If You Go…
The Scottish Youth Hostel Association (SYHA) has 60 hostels throughout the country. Unfortunately, the Loch Lomond hostel is now closed, but you can still stay in Carbisdale Castle hostel (currently under renovation). Scotland has a huge range of hostels, from the rustic and rural to the urban and modern. Check them out at syha.org.uk.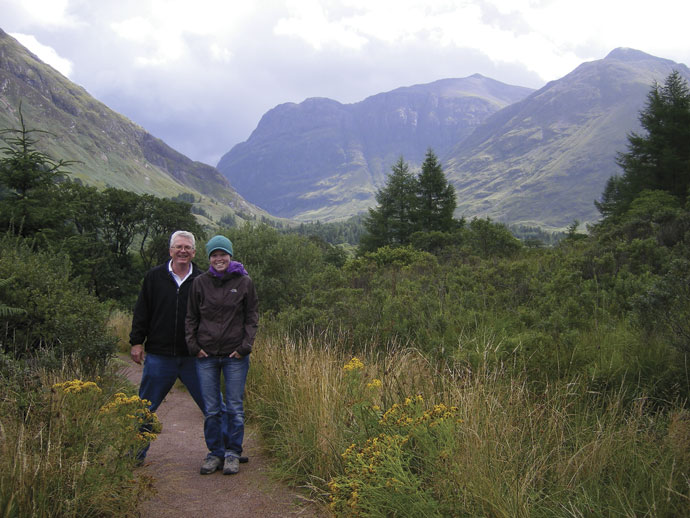 About Heather
Heather Cleland is a freelance writer and editor, currently living in Toronto, though she is originally from near Ottawa and formerly of Vancouver. She is a travel writer for TheLoop.ca. You may have previously read or heard her words through The Globe & Mail, The Walrus, The Georgia Straight and CBC Radio.

www.heathercleland.com / Twitter @heathercleland
---