Outpost Magazine Issue 93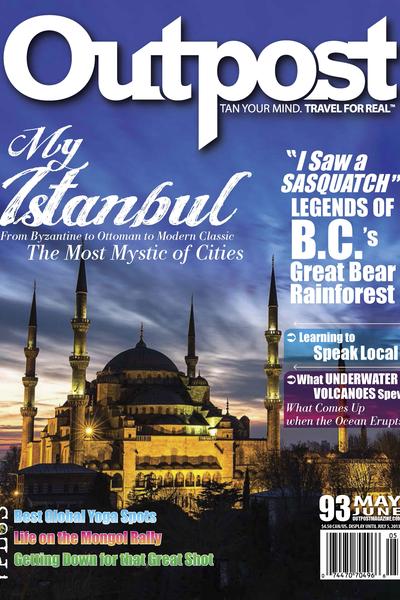 Outpost Travel Magazine
Issue 93 Table of Contents
My Istanbul
On the Bosphorus Strait that slices Turkey's most ancient and mystical city, culture and commerce collide, Europe and Asia come face to face, and life takes on a dream-like quality as masterpieces pepper the landscape. Join one writer as he wanders the streets of Istanbul and reflects on its countless reincarnations—from Greek to Roman to Ottoman empire, Byzantium to Constantinople, Christian to Muslim to secular society—reminding us of this gem of a city that sits on the cusp of two continents.
Of Myths & Legends
Up the Pacific coast of beautiful and bountiful British Columbia, ribbed by inlets and islands and windy waterways, lies the untamed Great Bear Rainforest, where the grizzly reigns, red cedars rise to reach for the sky and Sasquatch is thought to roam. Join journalist John Zada as he travels from village to town to community, exploring the places and meeting the people who call the coastal rainforest home.
Tripping
In Whose Gracious Company
On The Fringe
More under-reported, quirky-human, natural-world stories: the party pee patrol, planes that fly on plastic, just let it rip and that's just how the beetle rolls.
Local Knowledge
Our Amazon-River-crossing special correspondent braves both piranha-infested waters and the pitfalls of mispronunciation.
MEC's The Traveller's Edge
Field Notes
Up From the Bottom of the Deep Blue Sea:
Every so often our amazing little planet burps forth an astonishing but unanticipated surprise.
Shutter Stop
When the pros go low to get the shot.
Backpacker Buzz
My Experience on the Mongol Rally:
In the 2nd installment of HI's 2013 series, one gritty adventurer reflects on the unexpected obstacles of road trip racing.
Outpost Traveller
Connecting you to your next adventure.