Hostelling International - Melbourne and Canada
Although we had opted for the slightly shorter approach, I was still puffing as we rounded the last cliff and saw the elevated promontory ahead. Railings and steps were one indication of the popularity of the spot; a noisy bunch of bushwalkers taking happy snaps at the top was another. We waited till they descended, then walked the final steps out to the end. The magnificent 180-degree vista was nearly too much to take in—the beauty and vastness of Grampians National Park opening up before us.
The Pinnacles is one of the most popular viewing spots in the Grampians. The two hour round walk sorts out purely day trip­pers from those wanting more: the view more than justifies the effort. It's part of a great day trip route around the park high­lights that was outlined in an information sheet the managers of Grampians YHA, AJ and Jason, gave me when I asked, "What can we see and where should we go?" Somehow, I think they had heard that question before.
We made our way to the Grampians from Melbourne. We rent­ed a car and headed for the Great Ocean Road. On a strik­ingly clear blue afternoon, Aireys Inlet and Split Point Lighthouse gave us our first taste of the outstanding coastal views ahead. There are roughly 200 kilometres (give or take) from Anglesea to Warrnambool along what is called the Surf and Shipwreck Coast. Australia is not short of good coastal scenery, but this is one of the finest with its sheer cliffs, long empty beaches, wind­swept points, winding roads—and lighthouses.
Okay, I'm a sucker for lighthouses—I see one on a map and odds on, I'll drive there. I once went to all the lighthouses on Kangaroo Island (there are three but they are at opposite ends of this deceptively large island!). Split Point was a good example: well maintained, with that bright white look, easy to reach, good photo spots…and a cute tea room. It was an excellent start to the trip.
A lot has been written about the Great Ocean Road—it's a mar­keter's dream. The winding road hugs cliffs with sweeping sea views around every bend, interspersed with atmospheric little towns along the way. You know what I mean. Truth be had, it is a great drive, best undertaken after lunch when all the day tour buses have trundled through. But it should never be the sole reason for visiting this region because there are many other little spots that offer more charm and less traffic.
Both Lorne and Apollo Bay are ideal bases or overnight spots—big enough to offer a bit of browsing, good food, essential sup­plies and a great YHA. Apollo Bay YHA is a gem—one of those special places where the vibe is just right and you want to stay longer. That evening, I eavesdropped on a conversation in the kitchen: two women were walking stretches of one of Australia's finest, and newest, long distance walks—the Great Ocean Walk. Stretching 104 kilometres from Apollo Bay to the 12 Apostles (amazing rock formations that rest on Victoria's shoreline), it can be done as day walks, or one long hike.
The women were doing it with a company who drove their gear from stop to stop. A German guest though was about to set off for six days, carrying everything—it was the highlight of his Australian trip. I was quietly envious.
Two days isn't long enough, but it gives you a flavour of the region. We did a loop on Day Two—along the Great Ocean Road, a rainforest walk at Maits Rest, then down to Cape Otway Lighthouse. You won't believe me when I say there are koalas literally falling out of trees along this road. Sitting munching and posing for endless photos from tourists who stop, park badly and gawk—the koalas just seem to know they are the top attraction.
The Otway Ranges form the backdrop to this stretch of coast. A winding maze of forest roads snake their way through the highly forested region. But if you don't want to go on gravel tracks, there is a loop up behind Apollo Bay on a sealed road that gives you the flavour of this region. Soaring trees, arching views, stupendous trees, ferns and lush vegetation. A break at the Otway Fly falls conveniently at midday. We opt for their elevated walkway rather than the ziplining. Either is a great way to spend a couple of hours.
The sun is shining brightly on Day Three as we approach the 12 Apostles. I'm naturally a little bit wary of any iconic must-see attraction. Too much hype can lead to disappoint­ment. I'd previously been there on a misty dull day—it hadn't stuck much in my memory. Amazing, the difference the sun makes—outstanding views in both directions from numerous viewing points. It's a well worn trail along the coast; each spot is marked, and you start bumping into the same people walking to the look-outs. But on such a day, it is hard to by­pass any of them, and I'm happy to revise my opinion of the 12 Apostles. I even iPhoned photos to my relatives on the spot—today's equivalent of a high five.
I would have liked to have broken the journey at Port Fairy, a friendly fishing village with more than a little bit of an alter­native feel. A great lunch at Rebecca's Café broke the drive, but it was time to head north away from the coast. Driving through rural Victoria, farmland stretched on either side of the road. But up ahead on the horizon a line of mountains gradually came closer and closer.
As the afternoon light began to wane, we wound our way up into the Grampians National Park through the ancient rugged volcanic range. A region heavily battered by bushfires in the last decade, the park is now well on the mend. A roo hopped across the road in front of us as we approached Halls Gap—the park's only township in the northern part of the range.
Nestled in a valley surrounding by craggy cliffs, Halls Gap is the perfect mountain town. The smell of wood stoves filled the air, autumn leaves added colour, and there was a bustle of people in the small shopping area. Grampians YHA was the first purpose-built eco hostel and blends seamlessly with its surroundings.
The next day, I sat on a rock near the Pinnacles lookout, munching an apple. There are times in most trips when every­thing aligns and you have a near-perfect moment. This was it. If I could have stopped the clock and sat there for hours soaking in the view I would have.
5 Days
Day One – Great Ocean Road to Apollo Bay
Day Two – Otway Ranges day loop
Day Three – 12 Apostles coast road to Port Fairy, north to Grampians
Day Four – Grampians National Park
Day Five – Head back to Melbourne
Key Facts
Getting There: Depending on your time frame, this can be done as part of your Big Trip Down Under. Or, if you only have a few weeks to spare, why not just spend this time exploring the beautiful state of Victoria—it really is a perfect getaway.
Getting Around: You need a car to do this region justice as public transport connections are tricky.
Where to Stay: There are three YHAs along the Great Ocean Road: Lorne, Apollo Bay and Port Fairy. You can book these, and the Grampians YHA, on www.yha.com.au
Canada's Winter Wonderland Hostels
---
HI-Mont-Tremblant

With its cosy cabin feel, the HI-Mont-Tremblant hostel is the ideal winter hideaway, and perfect starting point to dis­cover the beautiful Laurentians region just north of Montreal. With the Mont-Tremblant Ski Resort, the biggest in Eastern Canada, and Mont-Tremblant National Park, the region pro­vides enough options to quench the thirst of the most enthu­siastic outdoor activity lovers. Skiing, tubing, snowshoeing, dog-sledding, hiking...you name it, we bet they have it! After a day out in the cold, sit back at the hostel bar, sip on a local Unibroue beer and watch the flames twirl in the fireplace. Ain't this what winter's all about?
For more info: hihostels.ca/tremblant
HI-Ottawa Jail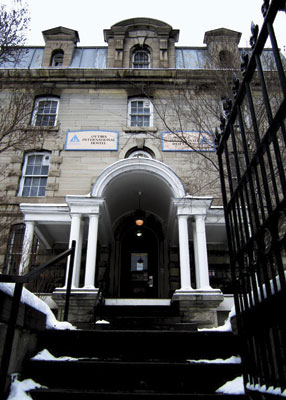 Our capital becomes one of the most romantic winter cities once the snow hits the ground. A scenic skating rink takes shape over the Rideau Canal, allowing locals and visitors to soak up 7.8 kilometres of unparalleled views of downtown. The canal really becomes the centre of it all when Winterlude begins in February. During three weekends, the city celebrates the joys of winter with ice sculptures, games, fireworks, con­certs and much more.
After a long day outside, the charming pubs of Byward Market provide warm havens to spend the evening and splurge on tasty food and drinks. Steps away from Rideau Canal and Byward Market, the HI-Ottawa Jail Hostel is ideally located for your winter escapade in the city. And as if this wasn't enough, its Mugshots bar puts on all the entertainment you need for those cold nights during which you don't want to venture too far.
For more info: hihostels.ca/ottawa
HI-Lake Louise Alpine Centre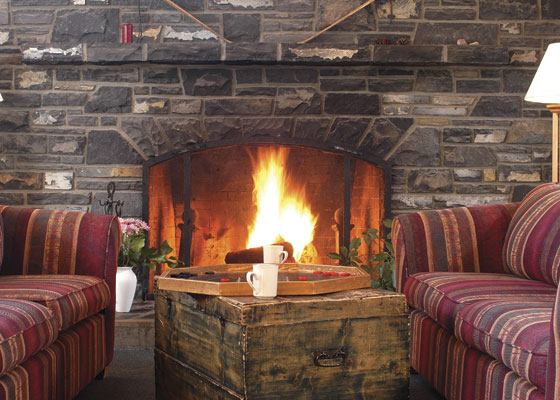 The Rockies are truly a magical place in the winter time; I mean, it does not get better than skating on frozen Lake Louise or snowshoeing with the family in the pristine wilder­ness. If you want to stay warm and cozy while enjoying the splendid view, why not treat yourself to afternoon tea at the Fairmont Chateau Lake Louise.
If you want perfect powder and impressive downhills, then head to one of Banff National Park's three ski fields, which are all within easy access of the hostel. If you really want to experience some untracked terrain, try some heli-skiing, or if cross-country skiing is your thing, you won't be disap­pointed with the extensive network of trails that are waiting to be explored.
HI-Lake Louise Alpine Centre will offer you a warm welcome when you return from your day in the snow—get toasty in the sauna, relax in the cozy common areas, and enjoy a bite to eat at Bill Peyto's, the on-site licensed café.
For more info: hihostels.ca/lakelouise
HI-Nordegg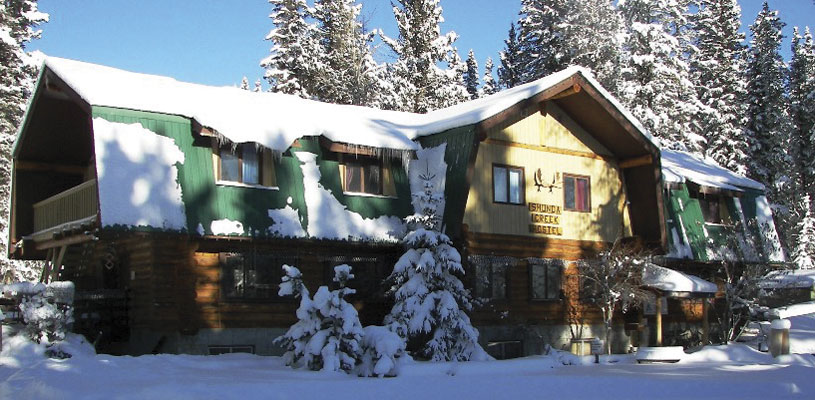 Alberta's hidden gem, HI-Nordegg, is tucked away on the eastern slopes of the Rockies, along the David Thompson Corridor. Just far enough off the beaten track, Nordegg of­fers a relaxing break in beautiful surroundings. Using HI-Nordegg as a base, you can enjoy almost any winter activity, from snowshoeing and cross-country skiing to ice fishing and dog sledding. The area also has some of the best ice climbing in the Canadian Rockies, so take a leap of faith and try climb­ing a frozen waterfall!
The homey log cabin-style hostel has a real laidback feel: there's no TV and no Internet, so you can be sure you're get­ting away from it all. One of the hostel highlights is the out­door hot tub, perfect for relaxing those muscles after your day in the great outdoors.
For more info: hihostels.ca/nordegg
HI-Whistler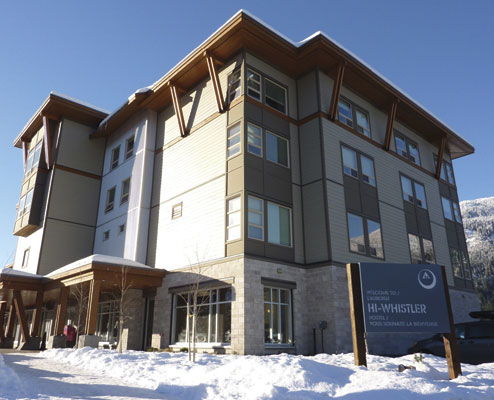 Of course, a winter in Canada would not be complete with­out a visit to world-famous Whistler. Some people even say it is the 'best ski resort' in North America, or even the world. One thing is for sure: you will have a great time both on the slopes and off. Mix world-class runs with an abundance of top-class restaurants, bars and nightclubs, and you are sure going to have a great time.
HI-Whistler is located a short drive from the village at the former Olympic Village. The hostel is only a couple of years old and state-of-the-art, with modern facilities and décor. You can choose from four-bed multi-share rooms, or private en­suite double rooms.
For more info: hihostels.ca/whistler
MESSAGES FROM HI-C-PM REGION BOARD OF DIRECTORS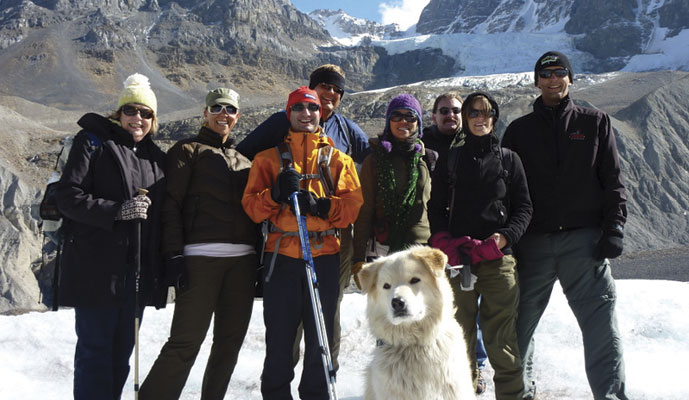 The Hostelling International-Canada-Pacific Mountain Region volunteer Board of Directors was very pleased with the response from our membership to our recent survey and follow up round table discussions. We received 535 completed surveys and met with 58 members in six locations across our region. This engage­ment is part of the Board's three year linkage plan which we hope will give the Board a better perspective on what we need to focus on in the coming years, and to ensure we reflect the values of our membership as we move forward. We will follow this round of engagement with two weekend retreats with mem­bers next summer to explore some of the key findings in more depth. We thank everyone who participated for their time and their valuable feedback.
We cannot possibly cover all that we have learned from this engagement in this article, so please visit our website at www.hihostelspm.ca/believe-hostelling to review the complete sum­mary of both the survey and the discussions that followed. In the following paragraphs we will provide a brief overview of what we heard. Overall we found that there was a significant degree of satisfaction with the governance of our region and with the hostelling experience. However, there is always room for im­provement and suggestions were received on how we can im­prove the experience for families and older guests at our hostels.
You also told us that we need to communicate more effectively, especially with our younger demographic. Many suggestions were made on how we might reach our members more effec­tively and with a more targeted message. We also heard that many did not know we were a non-profit organization with a volunteer Board. Speaking of volunteerism, we were pleasantly surprised by the amazing skills and talents that reside within the hostelling community, and we look forward to tapping into this talent to make the hostelling experience in our region that much more special. In addition, a number of respondents indicated that they would be willing to be a "friend" of a particular hostel. We have many special properties throughout our network, and it is heartwarming to hear that many of you agree!
Finally, we want to be good stewards of our environment and so we asked what this meant to our members in the context of our facilities. You had a lot to say! Over 400 individual comments indicated that while delivering on our mission is key, this issue is an important one. You want to see tangible efforts producing real results with a focus on good waste management practices, innovative energy plans to reduce our carbon footprint, and the use of environmentally friendly products in our hostels.
Your volunteer Board is in the process of reviewing these results and will be considering adjustments in the direction of the as­sociation at its subsequent Board meetings. Again, we appreci­ate the input we received and we hope that you will see some favourable progress at our hostels and in how we engage mem­bers in the years to come.
HI-C-PACIFIC MOUNTAIN REGION BOARD OF DIRECTOR ELECTION RESULTS
As most of you know, we introduced online voting for our board of directors' election this year and we are extremely pleased with the dramatic increase in member voting through this new system. We received well over double the votes from the pre­vious year, and the most votes ever in our Director elections. The voting system allowed voters to leave comments and we received many positive ones regarding the new online format: the ease of it, the environmental and financial sustainability it brings, the quickness of it, a great way to stay connected, were just some of the many comments. I am pleased to advise every­one of the candidate results in this year's election. There were four board vacancies this year with five candidates vying for the positions. The four candidates with the highest votes will occupy the positions.
Your Directors for 2012/13 are:
---
Jason Demers, Calgary—term expires AGM 2014
Brian Kelly, Edmonton—term expires AGM 2013
Lenore Neudorf, Edmonton—term expires AGM 2013
Cindy Ng, Vancouver—term expires AGM 2014
Peter Nietresta, Edmonton—term expires AGM 2013
Meghan Trepanier, Vancouver—term expires AGM 2014
Sue Willgren, Victoria—term expires AGM 2013
James Wyatt,Vancouver—term expires AGM 2014
---
If you voted, thank you for your participation. If you did not re­ceive an electronic ballot, please update your email contact info with us by sending a note to boardelections.pm@hihostels.ca so you can participate next year! Any comments you may have are also welcome. We really appreciate member involvement in our association. A special thanks to our scrutineers in this year's election: Neil Haggard, Ken Fung and Michelle McLellan.